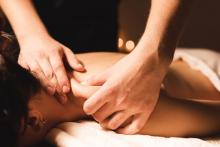 I like deep pressure, but is there ever a point where the work could be too deep? Do I ever pose a hazard to myself by getting deep bodywork?
There's no one-pressure-fits-all formula for massage: the ideal level of pressure varies from session to session depending on the health of your muscles, tendons, and ligaments. What might have felt great—and have been beneficial for your body—in your last session might not be right for your next one. Contrary to popular belief, deeper pressure isn't always better. The depth of pressure used on healthy muscles isn't the same as the ideal level of pressure for soft tissue that is inflamed or injured or that feels sore, tender, or painful. How do you know what depth of pressure is best? Trust your trained massage professional. Be specific and honest with your massage therapist about how your body feels before the session so they can adapt the pressure and techniques they use. And please speak up during the session if the pressure doesn't feel right for you. Together you can create the perfect formula for your session!
Kristin Coverly, LMT, is a massage therapist and the director of professional education for Associated Bodywork & Massage Professionals.